Acoustic Camera™ from SONASEARCH
The Acoustic Camera™ program is an example of SONASEARCH's efforts to bring advanced imaging capabilities to the oil patch. With the Acoustic Camera, SONASEARCH creates ultra-high resolution acoustic imaging with 'See in the Dark' capability providing video camera quality imaging in turbid fluids. The examples below indicate the excellent resolution available with this SONASEARCH technology. The pictures on a green background are common house aluminum house numbers (note the fluted surface features). The grey scale output of the Acoustic Camera faithfully images the test targets - flutes and all. Three-dimensional (3D) imaging of the Acoustic Camera output is straightforward (sepia images).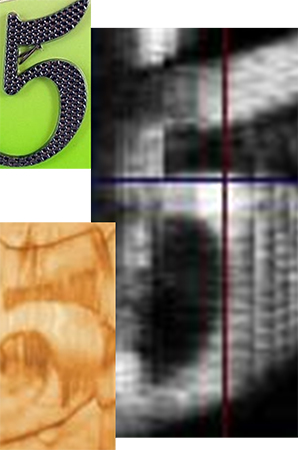 As can be clearly seen, the quality of such imaging equipment is unparalleled. The quality and care that goes into making these professional tools is a SONASEARCH highest priority. Our promise is to deliver trustworthy, innovative and quality R&D equipment every time. The work put into the development of our Acoustic Camera shows in every example shown. SONASEARCH is committed first and foremost to providing our clients such quality equipment as shown here.
Suggested applications include an acoustic fishing tool to eliminate the problems associated with optical cameras, formation fracture surveys i.e. Barnett Shale, etc.
SONASEARCH has utilized this technology in several applications for our clients, including:
Tanker/FPSO Inspection
Direct Measure of Steel Thickness
Nuclear Facility Inspection
Sediment Survey
Sand Management
Intelligent Fishing
Multilateral Reentry
Perforation Inspection
Pipeline inspection
Formation Imaging
BOP Repair
Tubing Inspection